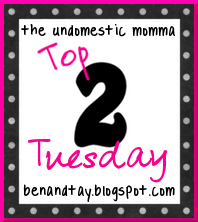 I love this week's Top 2 Tuesday, especially since we are going to be trying for a baby soon! Jeff and I have had baby names picked out for a long time! I'm kind of bummed that both of them are really popular now, but I'll still use them anyway!
For a boy, it's a tradition on Jeff's mom's side of the family that ALL the boys have a name that being with "J." I personally don't like this tradition because the majority of the good ones are already taken by people who are too young to have a kid named after them! The only "J" name we both like that's not taken and works with our last name is:
Jackson!
We'd call him Jack. Not sure on a middle name yet. Jeff wants to use his first name (He has his dad's first name as his middle name, which is Donald, so that kind of sucks in my opinion) so the kid would be Jackson Jeffrey, but I don't really like the way it sounds and I told him he doesn't get the "J" name and his first name as the middle name lol! If we have another boy, I don't know what we would do for a name...
I've had my girl name picked out forever and Jeff loves it, so we're set on that! If we ever have a girl her name will be:
Lily!
For a middle name, I'd like to do Patricia after my mom. I think it sounds pretty and Jeff likes it too! If we had another girl, her name would Probably be Hannah Christine, the middle name being Jeff's mom's first name. 
What are your favorite baby names?